A unique concept
An exclusive and original activity
'Incentive' and 'team building' events which are beneficial for your colleagues or clients
Accessible to everyone
Men and women, sporty and non sporty
For groups of 5 to 150 people
Adapted to different locales:
Hotels
Conference centres
Castles
Residences
Sports centres
The values and virtues of fencing
Body and mind in perfect harmony
Surpassing oneself
Concentration
Intelligence
Dynamism
Self-control
Sharing
Respect
Authenticity
Success
Pleasure
Combativeness
Ethics
Justice
Get to know yourself better through fencing
Question your values and ideas
Behaviour in a team situation
Capacity to adapt
Manage your emotions
Make decisions
Take risks
Feel pleasure
Desire to perform well
Strategy for success
Question yourself
Relate to others
All for one and one for all
Fencing is an individual and team sport which combines mental qualities (self control, anticipation, tactics and observation) and technical qualities (attack, defence and movement).
Fencing is a great way to make us understand our roles and responsibilities within a group and leadership.
Pointe d'Art's mission is to offer companies new ways of analysing themselves and to help them bond as a team through fencing.
Examples of desired objectives
Become aware of how you react in a combat (attacking, defensive, cautious…)
Adapt your risk-taking in accordance with a defined strategy
Alter your tactics according to your opponents' reactions
Develop your leadership skills
Know how to mobilise your team by using their strong points and talents to reach a goal
Renew values and beliefs
Clarify your attitude in solo and in a team
Understand how you react to risk taking and decision making
Control emotions in stressful situations
Learn how to adapt, etc.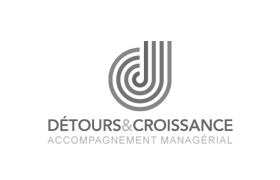 Détours & Croissance create and run made-to-measure management enhancing activities which use themes to help managers stand back and analyse their professional lives.